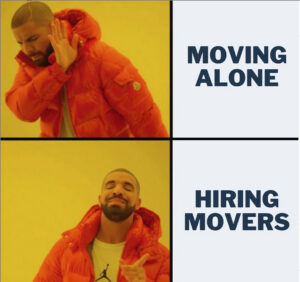 Book a Removal Company – Though you may be tempted to do the moving yourself, this is likely to add unnecessary time and stress. When you hire a removal company, you are hiring a team of experts who know the best way to go about things. You can hand everything over to them, knowing that your belongings will get to your new home safely. Otherwise, you could find yourself doing multiple journeys and damaging goods.
Declutter Your Belongings – There's no better time to declutter your belongings than when you are moving house. Before you start packing, think about whether there are any items you want to sell or throw away. Not only does decluttering help you to get rid of unwanted items, but it makes moving a lot easier as there's less to pack and unpack.
Start Packing Early – Once the movie has been finalised, start packing as early as possible. Though you won't be able to pack everything too far in advance, you can start to pack up rooms that aren't used and items you won't need in the meantime. It's a good way to keep stress levels low, as you won't find yourself in a panic to pack everything at once.
Sort Out Utilities Ahead of Time – A lot of people leave utilities until the last minute, but this just causes added stress. By setting everything up beforehand, you can move in knowing that complex utilities have already been taken care of. This gives you more time to settle in and enjoy your new home.
If you are planning a move, get in touch with Kwikshift. With our affordable packing and removal services, moving house is simpler and a lot less stressful. Contact us today via the online contact form.
Liverpool Removals
Birkenhead Removals
Wirral Removals